I came across a video tutorial for this lantern, made it, posted it on my Twitter account, @PaulaKrieg, and folks there showed such interest in it that I thought it would be good to post here as well.
There's a great video tutorial for making these at this link:  SonobeCubeLamp
I made some of these as gifts.
Before closing them up I put a tea light turns on for 6 hours and off for 18 hours. I turned on the tea light at around 4pm, then sealed them into the lamp and sent them off.
It will take about 2 months for the battery to finally turn off for good: tea lights with timer, from amazon.com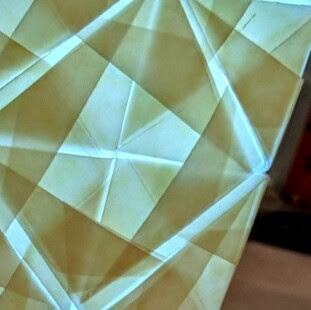 If you try making this lamp, here's a tip for assembling the modular origami units: think of the pieces joining together by creating tension, in other words, notice how when one corner slips under a joining unit then the other corner goes over an opposing joining unit.
Lots of folding here, but so worth it.